This year, we thought we'd feature some gift ideas from members of our team. I'll start off by listing a few of my favorites. Bonus: You can purchase every single one of these gifts online , so you don't even have to leave your house.
Custom Art & Illustrations (By Lauren P)
To me, the best kind of gifts are the ones that are personalized, memorable and last. I can't think of anything better than custom art and illustrations that you can hang, display and admire for years to come. By Lauren P is one of my favorite illustrators. While she has many pieces that are ready to print and ship, you can also contact her for a custom illustration or purchase a gift card.
View her online shop here.
At-Home Workout Subscription (A Sculpt Body)
With everyone spending more time at home than ever before, one of the most valuable gifts you can give someone is the gift of movement at home. Alessia's program, A Sculpt Body focuses on effective workouts that require minimal equipment, and are also low-impact (aka no burpees, your neighbors will thank you). Her exercises range from beginner to more advanced classes so there's something for everyone.
Purchase a gift subscription here (offered in 3-month, 6-month and 12-month memberships).
The Food Lab (by J. Kenji Lopez-Alt)
This is the perfect gift for someone who loves to cook (or is just starting!). At almost 1000 pages, this book looks more like a textbook than a cookbook (in a good way!). The author uses scientific methods to figure out the optimal way to prepare a particular dish or ingredient, and tells you why it works. His writing is funny, down-to-earth and educational. I've had this book for many years now and refer to it constantly. It's a kitchen staple for me and just like a set of great knives, it's a must-have investment piece for the culinary enthusiast.
Buy it on Amazon here.
Custom Greeting Cards (Queen B Cards)
I've always been the type of person to peruse Etsy or my local stationary store in search of the perfect greeting card for the specific occasion and person. Nothing is more satisfying to me than finding that card and seeing their reaction when opening it. Queen B Cards takes this to the next level with her custom, hand-crafted cards. Each card is one-of-a-kind and made by hand and although she has a selection of popular cards, you can also request a custom card made. The level of detail is next-level and the receiver of the card will likely want to frame the card as art.
Check out her store here.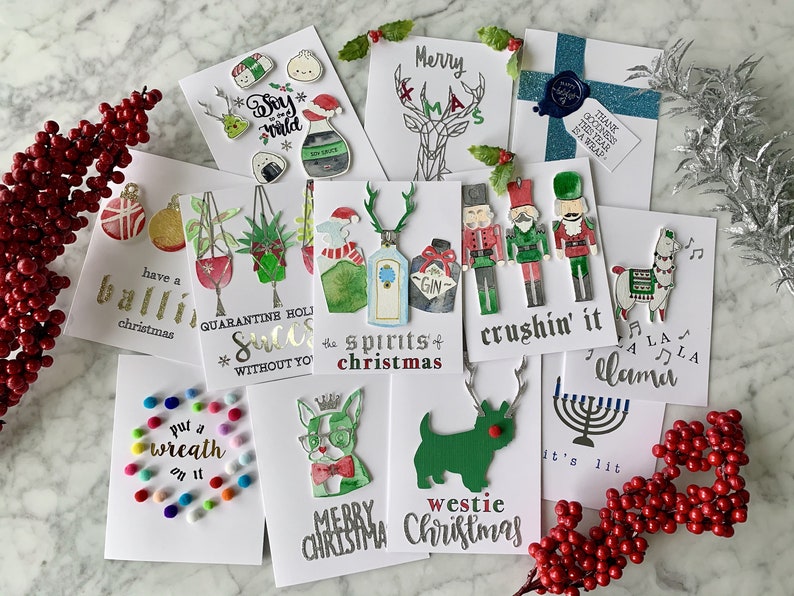 TORONTO / GREATER TORONTO AREA
Flowers & Coffee Subscription (May Flowers)
I absolutely adore subscription gifts as it serves as a small reminder of your love, every single time they receive it. Enter May Flowers' flowers & coffee subscription – could there be a better combo? Annie, the owner of May Flowers, creates beautiful arrangements that are beautiful and detail-obsessed. This isn't your run-of-the-mill grab bag arrangement. This year is especially a good time to gift this, as lockdown means you likely won't be seeing many of the people you usually do this time of year. A great gift for a grandparent or mom/mother-in-law (we all know moms love flowers…).
Purchase a flower & coffee subscription here. Or just flowers here.
Send Snacks & Alcohol (Runner)
There should really be a sixth love language: snacks. What better way to show someone you care than to send some surprise snacks and essentials (alcohol, toilet paper, you name it) their way? That's what Runner does. All you have to do is build a cart of what you think they'll love and Runner will do the work (which means you don't have to venture out and stand in any lines). They also have a cool partnership with Cocktail Emporium, which means you can send alcohol and other alcohol related accoutrements (Zoom cocktail night, anyone?).
Select your goodies here. Runner has generously given us a discount code for $10 off your delivery with the code THREADS.
At-Home Beauty & Spa Services (Primped)
Primped is an at-home mobile beauty salon that provides both beauty and spa services. Gone are the days where you need to venture out of your home (and out of your pajamas) to get your nails done. Primped comes to you and does the set up and clean up (not sure I can think of anything better). Although they are currently closed for the time being due to Toronto's second lockdown, you can still purchase a gift card for use after this period.
Grab a gift card here.